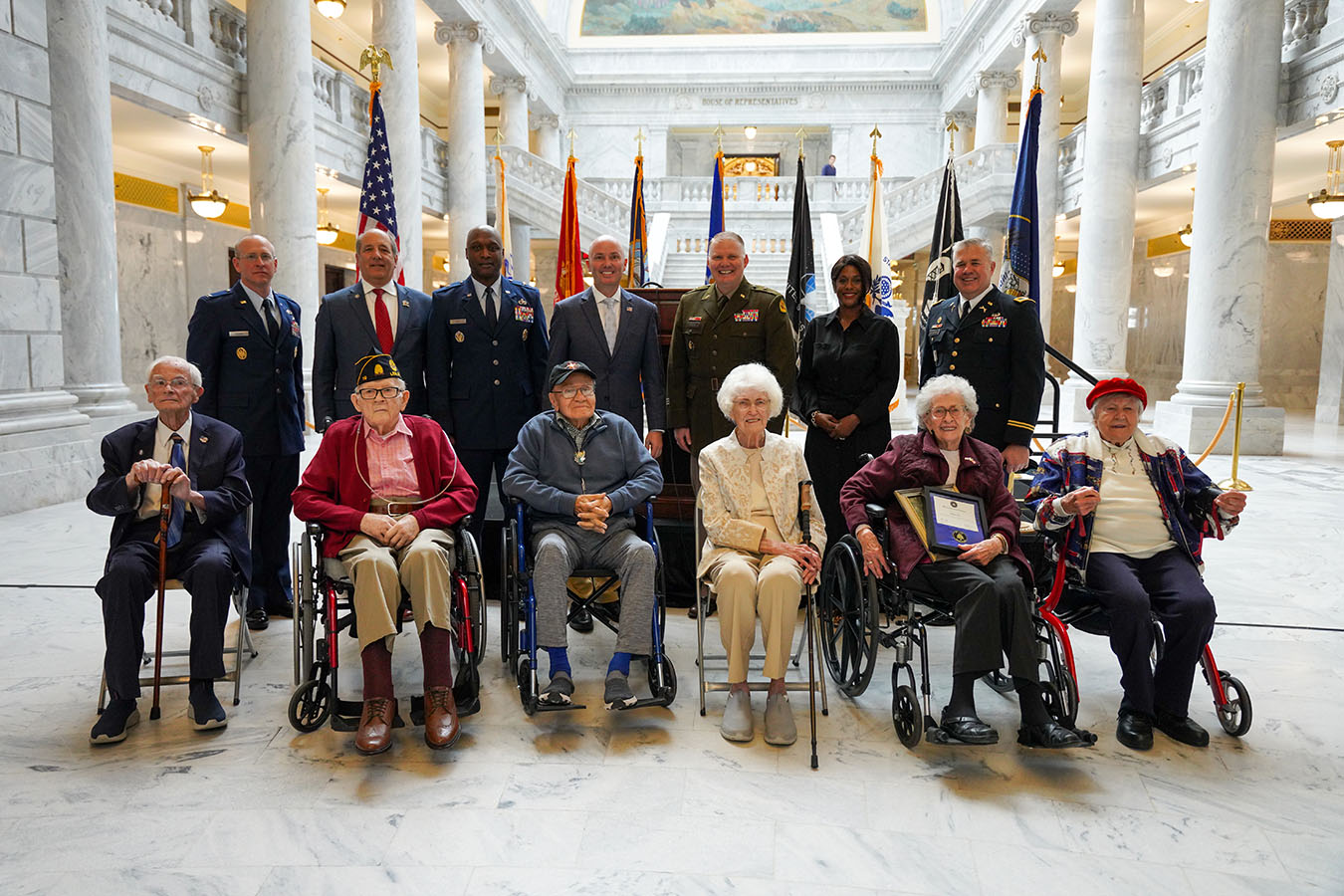 ---
SALT LAKE CITY — In a moving ceremony held at the Utah State Capitol Rotunda on Friday, November 10, 2023, Governor Cox and the Utah Department of Veterans and Military Affairs celebrated the remarkable lives and service of Utah's 100-year-old veterans.
During the ceremony, Governor Spencer Cox shared a remarkable story from World War II. He recounted the valor of Utah's first lady Abby Cox's grandfather, a Marine tasked with the perilous mission of removing markers on Iwo Jima used by Japanese military members to calibrate their artillery. Faced with daunting odds and knowing the risks, he chose to undertake the mission alone. Despite being shot through the chest and presumed dead, he was miraculously rescued by his brother, who defied orders to save him.
Governor Cox stressed the significance of preserving such stories, emphasizing, "We need to continue to talk about the greatest generation and make sure there are greater generations to come."
Six remarkable Centenarian Veterans were honored during the ceremony and received special challenge coins from Governor Cox and the Dr. Angela Williams, director of the VA Salt Lake City Health Care System. Military leadership throughout the state were in attendance as well to share their appreciation.
Below you can learn a little more about each of the Veterans honored.
LEE ANDERSON: A testament to determination and patriotism, Lee Anderson joined the Army Air Corps in 1942, playing a pivotal role in moving aircraft across the U.S. during World War II. His commitment to service began even before he officially enlisted, exemplifying unwavering dedication to defending freedom.
DAROLD WILLIAM SKENANDORE: Bill, a proud Native American, served in the U.S. Army during World War II as a Medic in Guam. He was part of a remarkable family legacy of service, with three of his siblings also answering the call of duty during WWII.
PHYLLIS OCKERMAN: Born in Salt Lake City in 1922, Phyllis served her country as a Navy Lieutenant during World War II, providing care to injured Navy and Marine soldiers. Her selfless service reflects her unwavering patriotism and dedication to duty.
ESTHER ORR: Serving in the United States Army from 1942 to 1945, Esther rose to the rank of Staff Sergeant, playing a vital role as a stenographer, providing crucial administrative support during WWII.
ELDEN TAYLOR: A Radioman 2nd Class in the United States Navy during World War II, Elden's dedication and training earned him recognition with the World War II Victory Medal and the World War II American Campaign Medal.
ALICE TELFORD: A Gold Star Mother, Alice bore the immense sacrifice of losing her son, John W. Telford, in the Vietnam War. During WWII, she contributed to the war effort as a riveter, skillfully assembling essential aircraft and equipment.
The Utah Centenarian Veterans Ceremony served as a touching reminder of the exceptional service and enduring patriotism of these veterans. Their stories continue to inspire and underscore the importance of honoring the past and ensuring that future generations carry the torch of sacrifice and service.
Photos of the ceremony can be viewed here: https://officeofthegovernor.pic-time.com/-honoringutahscentenarianveterans111023/gallery